Around the globe, in practically every sector, manufacturing facilities are undergoing a major transformation. Factory 4.0, Smart Factories, is becoming a reality. Digitization is changing the way we process materials and make products. Data and the intelligence it can provide is proving to be the key to completely reshaping manufacturing.
On May 26th we will be co-hosting a webinar with HP Enterprise, Arrow and Ciber on the Future of Manufacturing. The Webinar will include a keynote presentation by Dr. Tom Bradicich followed by a panel discussion with manufacturing technology experts exploring edge solution strategies and tactics. Register for the Webinar.
Manufacturing has long employed edge computing for process control. It is the explosion of cheaper high-quality sensors for monitoring conditions, coupled with low-cost compute power, that makes Factory 4.0 now a possibility. Data from sensors is the valuable resource enabling Smart Factories and data cheaper than ever to capture, process and store.
With manufacturers' goal of producing high quality products at minimum cost, Factory 4.0 is already proving its value. One of the core technologies driving this new wave of ultra-automation is Artificial Intelligence (AI) and Machine Learning (ML) on edge computing platforms. Through the use of AI and ML, manufacturers can use data to significantly impact their bottom line by greatly improving production efficiency, product quality, and employee safety. Edge computing solutions can be complex and costly to design and maintain.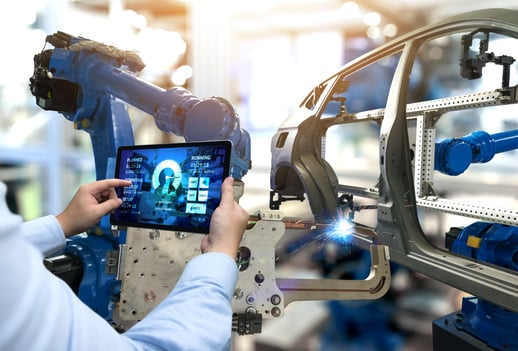 Viviota has delivered data solutions in edge environments for R&D engineers on HPE Edgeline Converged Edge Systems. These solutions accelerate design and development cycles with fully-automated engineering data and analyses management, all at the edge. With intelligent data handling and automation, R&D engineers have realized analysis results 10 times faster, shortening time-to-insight and decisions. Viviota Time-to-Insight has support for deploying AI & ML-driven solutions. These same solutions for intelligent data handling and processing can be applied to Factory 4.0 scenarios.
The HPE Edgeline Series offers a "converged system" where traditional Operational Technology (OT) functionality and enterprise-class IT capabilities are brought together in a ruggedized system suitable for edge environments, including factory floors. (Traditional OT functions include data acquisition, control systems and industrial networks) Because all the disparate functions required by an industrial system are integrated in one device, converged systems makes buying and managing edge solutions easier—they have improved reliability and better power consumption at a lower overall cost.
Edge solutions continue to evolve in many areas of manufacturing to enhance product quality, production throughput and uptime. Join Viviota and our co-hosts, HP Enterprise, Arrow and Ciber for a live webinar on May 26, 11 a.m. CDT, featuring IT/OT convergence in manufacturing environments. Dr. Tom Bradicich will present a keynote followed by a panel discussion with manufacturing experts.